Display none added to navigation for training videos
Commented out marketing vid on reports

360 Media Group helps the automotive sector accelerate growth strategies
360 Media Group is the authority on the UK fleet market, using expert trend forecasting combined with insights from the fleet supply chain to help buyers and sellers make better decisions.
We do this through sharing automotive insights, education tools and thought leadership with our communities, joining the dots on the right trends at the right time to maximise sales.
Our detailed understanding of the UK fleet sector is cultivated by talking to UK fleet operators, every single day.
Our team of industry experts create exceptional insights on what buyers want and when they want it.
Find out how we can support your business objectives.
How We Do It
360 Media Group works with our customers to inform sales & marketing strategies.
We generate robust evidence of business purchasing behaviours, operational pain points and fleet priorities over the short, medium and long-term.
People buy from brands that they trust, that's why we regularly monitor the top 100 trusted brands.
We also monitor the buying behaviour of the top 1,000 fleets, these insights inform market trends, market segmentation and proposition development.
Each year we interview over 2,000 fleets, our insights are accessible through market reports, our knowledge bank and as part of our consultancy services.
Find out how we can support your business objectives by downloading our Credentials Brochure
Sustainability Index Report - behavioural insights on EV buying and charging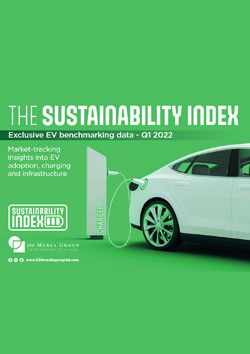 The Sustainability Index is a quarterly measure of EV momentum.
This quarterly tracking study measures trends across home + public charging, buying search, residual vale performance and most popular models. We also review EV infrastructure growth trends and charging density of non-network charging.
Insights are sourced from: Auto Trader UK, Cox Automotive Europe, Zap-Map, Field Dynamics Consultancy, Mina, Allstar Business Solutions.
Plus exclusive insights from the 360 Media Group Ltd Fleet Outlook Report 2022 on EV knowledge, future EV demand, barriers, information sources and the new vehicle supply chain are also featured.