About 360 Media Group
Established in 2019 by leading fleet expert Ian Richardson, 360 Media Group is an information services provider, specialising in the automotive sector.
The cornerstone of our proposition is insight and knowledge. Throughout our journey we have added expertise to provide a suite of products that our clients value.
Research services
We provide end-to-end management of the research process, creating bandwidth for clients to focus on their core functions, whilst we talk to their customers and prospects.
Proposition development
Our insights team help identify opportunities in the market and consult with our clients to create and test propositions.
Brand tracking
We gather customer feedback, analyse the data, and identify what matters to them. This enables our customers to improve products and service in line with customers' needs and wants.
Media services
360 Media Group creates opportunities to connect buyers with sellers, we do this through our events and forums, regular networking events and by providing access to the Fleet1000.
View the Fleet1000 View our EV Forums
25 Top Tips Guide to Electrify Your Fleet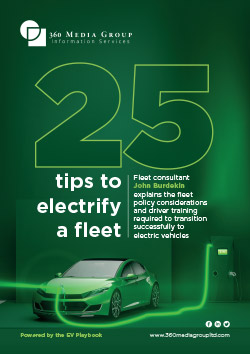 The 25 Top Tips Guide to Electrify Your Fleet is packed with practical advice on the business case for EVs, changing driver mindset, charging, range optimisation and FAQs, produced by Ian Richardson and Jon Burdekin 🚘 Fleet Consulting this is a FREE resource available to the 360 Media Group community.
Ensure that you have registered to join the website to access other FREE resources including training videos and product reviews.